Pika Ibis Hook sizes 2, 3+ or 4+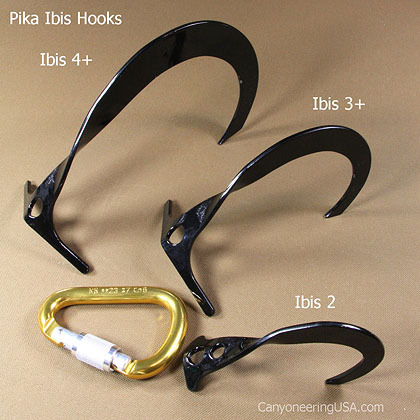 Pika Ibis Hook sizes 2, 3+ or 4+
Josh over at Pika Mountaineering makes these hooks about once a year, and I pull in a bunch, but... we run out at times. Three sizes are approximately the dimension of the reach in inches. One hole big enough to clip a biner into, though using a short loop of webbing is a better idea.
Some people find these good for canyoneering. I never have, but have not really tried it more than a time or two. Please do NOT vandalize the rock to create a placement - find another way.

Carabiner not included.
Weight: 4.6 ounces / 130 grams
Size (3+): 3-3/8" / 9.5 cm from spine to end of the hook
Now available in 3 sizes. (Text above applies to the 3+ size, the most popular size for canyoneering, and the one formerly used on the Happy Hooker).