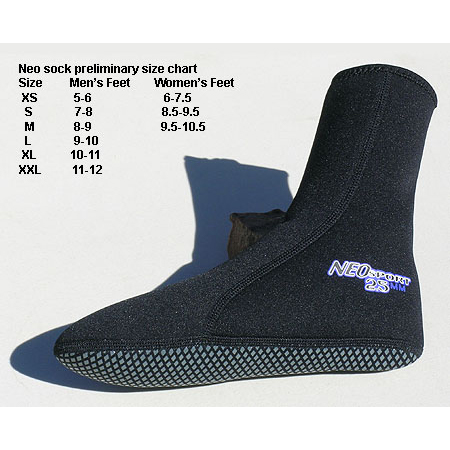 NEOsport 2mm Sock (pair)
2mm Neoprene Socks from NEOsport
If you are planning to a canyon with some water in the summer where your feet will get wet, but the temperature is warm, these are great neo socks. This is a very strechy, squishy, comfy neoprene sock, that fits well.
Neoprene socks are an essential item for canyoneering. They keep the feet warm, but also keep sand away from your tender footsies. Size your shoes to fit over a neo sock.
Wearing a wool sock underneath can be great for warmth and comfort - or they can be worn by themselves. They have a sticky pattern on the bottom of the sock - if this proves to be a problem, turn them inside out. While a bit on the thin side, these socks have high quality neoprene which makes them stretchier and easier to get on.
For more infomation about Neo socks check this thread at Canyon Collective.
Weight: 3.6 oz (100 gm) per pair, size M
Color: Black
NB: NEOSport has transitioned from 2.5mm (as pictured) to 2.0mm thick neoprene for the socks.