Site Organization
Tom's Utah Canyoneering Guide is organized based on major canyoneering areas within the state:
These areas are listed across the main navigation of the page, and within each area's sub menu is a list of all the canyons (they're also found on each canyoneering area's intro page).
The exception to this rule is Zion. There's such a high concentration of canyoneering (and hiking) information for this area that we've separated it into four categories: general visitor info, hikes, off-trail hikes, and technical canyons.
If you're looking for something and can't seem to find it, you can always try the search function, located here and at the top right of each page.
The Canyons
Rather than give a blow-by-blow description of each route, eliminating the sense of adventure, I aim to provide just enough information to get you into serious troub... I mean, just enough information to help you 1) choose routes appropriate for your group, 2) find your way, and 3) bring the right gear for the descent.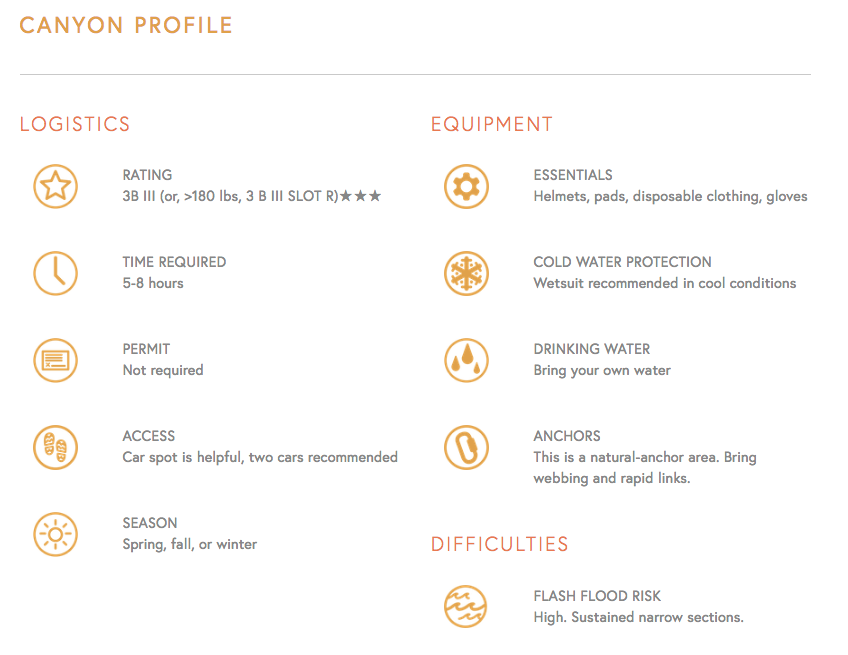 Look for the canyon profile icons to get information on logistics, equipment, and skills required for each canyon.
Each canyon is organized into the following:
Profile: Includes logistics, equipment, skills required, and any other special considerations.

Approach: Information on getting to the canyon, plus getting from your car to the canyon itself.

The Business: The canyon play-by-play.

Exit: How to get back to your car, your camp, the road, etc.

Maps & Info: CUSA maps and printable PDF guides (check out the maps download center, too)

Trip Reports: Latest Rave blog posts, stories, and alternative descriptions (i.e. descriptions outside of CUSA).

Gallery: Photos of the canyon, from previous descents.
While not all descriptions contain sufficient detail to fill all these areas, all canyons contain Profile information, as pictured above. If we haven't visited a canyon in a while, you may be taken straight to a PDF, which is considered an "archived" profile. Archived profiles, which look like this, can be helpful if you're looking to descend these canyons, but should be taken with a grain of salt. Other information on these canyons can be found from other sources, and should be cross-referenced with our provided archived profiles.